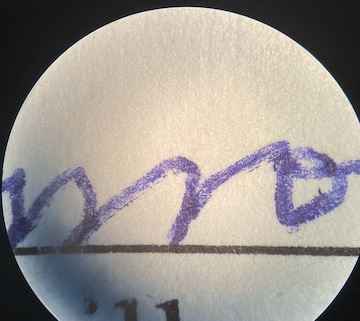 This short article tells you how to deal with the probate court and the possible forgery of your parents' will. The death of a parent is a difficult time. The prospect of going to court against your siblings makes the entire event even worse. 
You're probably here because you've just lost one of your parents, and now you're tasked with handling the last will and testament. The probate laws are different in California than in many other states. 
There are a few things that you can do to help you make decisions about the will:
Talk about the will with other family members.

Hire a forensic document examiner to determine the authenticity. 

Contact an estate lawyer to help you understand your legal rights and obligations. 
If the signature on the Last Will and Testament or those Trust documents doesn't look authentic, this article is for you.
My name is Bart Baggett, and I founded Handwriting Experts Inc. over 25 years ago to help people just like you. We specialize in probate cases involving signatures, trusts, deeds, and wills.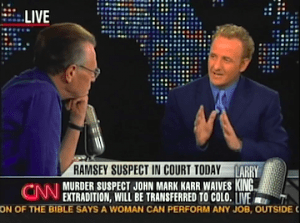 Oftentimes, it's the case when someone has passed away and the whole estate is going to be handled by a probate court judge. This can happen if they decided in advance that they want their house, cars, and jewelry to go to their kids. The judge will decide what happens with other assets of theirs such as stocks or bonds too. Beware of some idiot step-child trying to steal it all for himself through forgery. 
A forgery will should not be accepted as a valid will. But, how do you prove it was forged? A certified handwriting expert will compare the signature to the person's other samples of handwriting to determine whether the signatures is authentic or not.
A will is a legal document that states how the testator's property will be distributed after death. A will can also state who the executor of the estate is and there are different rules in different states.  Do you know the difference between a holographic will and a non-holographic will?  Most states agree a holographic will must be entirely written in the person's handwriting and signed to be valid.  A typewriter typed will by definition is not holographic.
Forgery is the act of fraudulently signing a signature simulating the person's actual signature. If proven, the will could be thrown out by the probate judge. 
Forgery of The Last Will and Testament is a crime in which someone alters or falsifies a will to make it appear as if it was written by someone else. This can happen when an individual wants to inherit from the person who wrote the will, or when an individual wants to inherit from someone else's estate.
It's our burden and responsibility to figure out our parents' estate and handle all the details. And unfortunately, it's very, very common for brothers, sisters, uncles, and even caregivers to forge wills and try to take everything– and I mean everything!
So, you're not alone in this situation. And I know it's confusing.  I'll walk you through how we work with probate cases and how a court-qualified handwriting expert can help you during the process.
At Handwriting Experts Inc., we are professional forensic document examiners. We require authenticated handwriting samples and signatures of the decedent (your mom or your dad who has passed away… and we determine if indeed the will for this person has been forged.
Here are the steps we follow in order to determine if a will has been forged.
Is there a document with the original, or "wet", signature?
Often, in a probate case, there is an original wet signature (pen and ink original) sitting at the courthouse under lock and key. But that's not always true.
If it's possible to get access to that will, one of our experts will personally go to the courthouse with a microscope and a camera to inspect it professionally. At the courthouse, a forensic document examiner will take photographs of the document in question.  After the inspection, they will perform the analysis to confirm whether or not a human being's handwriting wrote and signed the will. Sometimes color photocopies can look like wet ink, but it is not the same under a microscope. 
See the graphic below. One photograph is a color printout, the other is a blue ballpoint pen written by a human hand.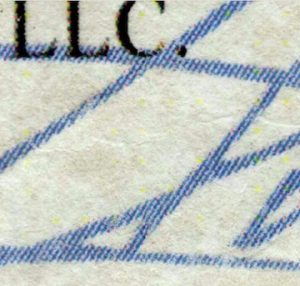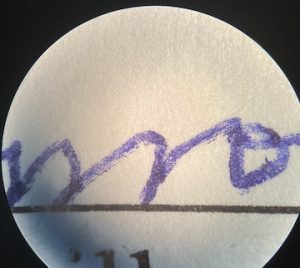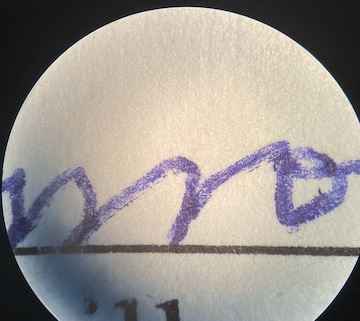 This microscopic image shows the output of a color printer and features red, yellow, and blue dots instead of ink from a ballpoint pen.
This is an authentic wet ink signature shown through a 20 magnification of a microscope. This image was written by hand using a blue ballpoint pen, and no color copy machine was used to print the blue ink in this photo.
2 Compare the signature on the will with other samples of the decedent's known handwriting and authentic signatures.
Next, we'll compare those signatures to other samples of your parent's handwriting—their passport, visa, checkbook, birth certificates, wedding certificates, etc. We'll look for their known handwriting. Your that's your job is to find their known handwriting. I would like you to find samples of known handwriting before the analysis can start. And then, we will compare them using our skills of handwriting identification to determine authorship.
Write an Official report on the Authenticity of the signature on the will. Has the signature been forged or not?
We're handwriting experts.  Our team has handled over 2000 cases and our associates have testified over 130 timesI'll know for sure whether that signature is forged. 
Even if your parent was really sick with diseases such as Alzheimer's or Parkinson's, we can take all that into consideration. And it's impossible to slip a forgery past trained eyes when we have the proper evidence to evaluate. 
So, once I or my team organizes and collects the documents,  we decide if a forgery happened. If it did, our team will produce an official report.   And if you need, one of our experts will come to court and testify on your behalf. 
If this is a service that you need, the pricing is on our website and varies depending on the number of documents and amount of consulting you need.
No matter which handwriting expert you hire from anywhere in the country, the process is pretty much the same. In order to prove a forgery in court, you're going to have to hire a forensic handwriting expert. It is common to prove a forgery, it is not common to identify the forger.  When that happens, they could face jail time. 
When you speak to an expert, make sure they are court qualified. They're going to have to testify. Otherwise, it's just your word against his (or her word). In most probate cases, an official lab report might not be accepted by the judge without an in-person testimony.
That's the process of how you handle the determination of a forgery of a will and testament in court. 
You simply hire the right forensic document examiner.
If you need our help, please reach out. There are respectable trained handwriting experts at a variety of price ranges at this directory: www.handwritingexperts.com. You can hire any of our professional experts on the website. If you want to hire me directly, go to handwritingexpertusa.com and speak to one of our case managers during your free consultation phone call. Bart Baggett takes cases worldwide. His main offices are in Los Angeles, Dallas, Miami, New York, and San Francisco.
We have offices around the country, and we'll travel to you to help you through this difficult time.  While we know the circumstances for needing our services are not the best, at least you can rest knowing the wishes of your loved one have been fulfilled.
Call Now For a Price Quote On Your Case:
1-800-980-9030 or 323-544-9277